3n Strategy specialises in the strategic adoption and technical implementation of the SuccessFactors Workforce Analytics (WFA) and Strategic Workforce Planning (SWP) technologies. We have worked with the technology platform for over a decade, and over our careers have supported 50+ customers achieve successful roll outs.
We are often asked to help SuccessFactors customers understand WFA and SWP, dispel myths about the tools, and tackle complicated implementations. We are asked some more often than others - here are our answers to the most frequently asked questions.
Please scroll through the list or click the list below:
1. Why would we implement the SuccessFactors Workforce Analytics module?
Whilst other modules enable operational efficiencies across HR, Workforce Analytics (WFA) is the most powerful strategic tool in the SuccessFactors suite. The WFA tool extracts data from every other SuccessFactors module, creating insights and evidence that customers can use to improve any HR decision, and answer any HR question.
2. Is the implementation process for SuccessFactors Workforce Analytics different from other modules?
Yes, an analytics implementation process is different from the other modules. Whilst many methodologies label their WFA phases the same as other modules, the type of work that customers and SAP/partners do to implement the Workforce Analytics tool is different.
The WFA implementation process is similar to the implementation of any analytics and reporting tool (and less like implementing the other SuccessFactors modules). More information can be found in our Implementing Workforce Analytics guide, but customers should be prepared to have discussions about the sources and definitions of metrics and dimensions, and expect to spend time comparing WFA outputs against source data.
3. We are at the very beginning of the Workforce Analytics journey. Where should we start?
5. When should we implement SuccessFactors Workforce Analytics?
You do not need to wait until the very end of your entire SuccessFactors suite implementation to implement the tool. This is a common myth, usually shared by people who either have limited experience with the tools, or who have a vested interested in making you postpone your implementation.
To ensure you receive the maximum strategic benefits of Workforce Analytics, we recommend you begin your WFA design process before you begin your overall implementation, as WFA will often highlight configuration requirements in other modules. If you have already implemented your other modules, it is not the end of the end of the world - but it is best to get started as soon as possible.
From a data perspective, there are three general rules for when you can begin your WFA implementation:
The EC Metrics Pack (sometimes referred to as 'Core Workforce and Mobility' Metrics) needs to be implemented first. After that, you can implement any metrics pack in any order.
The module you are sourcing the data from should have a stable configuration (i.e. no major changes are being configured).
The source module should ideally be live for a few months before you begin your WFA implementation.
6. How many SuccessFactors Workforce Analytics Dashboards and Reports can my organisation use?
Your WFA licence comes with unlimited dashboards and reports (and report pages).
7. Who do you need to engage in my business?
In general, a customer's reporting team usually lead the implementation of the SuccessFactors Workforce Analytics module. As these teams are usually familiar with systems and operational reporting, and how the organisation already consumed data, they are well placed to help define and agree WFA requirements, and perform the necessary validation activities.
A technical implementation can be done with just the reporting team, however we do not recommend this. When planning your WFA implementation, we recommend working with the sponsor to define what success looks like, and prioritise what user groups will be given access to WFA. We highly recommend incorporating these users into your strategy and design process, to ensure the insights generated by WFA will be used. Organisations do not do this often suffer low utilisation rates within 12 months of Go Live.
8. How long does it take to implement SuccessFactors Analytics?
For WFA-on-HANA, the fastest possible implementation time for the Core Workforce and Mobility (i.e. the Employee Central) Metrics Pack is probably 4 weeks, and 3-4 weeks for each metrics pack after that. In reality this rarely happens. We recommend planning 6-8 weeks to implement the initial EC/Core Workforce and Mobility metrics packs, and 4-6 weeks for each subsequent metrics pack.
9. What are the common obstacles to an easy SuccessFactors Workforce Analytics implementation?
The most common obstacle by far is customers underestimating how much time will be required to UAT/verify metrics and dimensions. Whilst there are smart ways of verifying WFA data (ask your implementation consultant), it will always require dedicated time and an iterative approach with your implementation consultant to successfully deliver at maximum speed.
Other common obstacles are not specific to the analytics tool, but linked to the wider SuccessFactors implementation. For example, we're often impacted by the implementation of other modules. If source modules are configured incorrectly or RBP is not set up in the right way, time will be lost.
10. Why is SuccessFactors Workforce Analytics so expensive to implement?
In the past, especially with older versions Workforce Analytics (WFA-on-SQL), the implementation costs for WFA have been higher than other modules. This is because with WFA-on-SQL, SuccessFactors had to do 70% of the work, and therefore 70% of the project hours and rates were very high.
With the new version of Workforce Analytics (WFA-on-HANA), the entire project can be delivered by a partner. This means 100% of the costs and hours are set by partners. Costs to implementation Workforce Analytics should now be much lower than in previous years.
If you have had a quote in the last few months and still feel it is quite high, there are two common possibilities:
Many partners (and even SuccessFactors) quote WFA hours based on the old technology which required a lot more time. Partners that know how to implement WFA-on-HANA will know better.
Rather than compare the cost of WFA implementations with other SuccessFactors modules, compare it with other HR analytics and MI tools. WFA implementations are different from other modules and shouldn't really be compared.
11. What change management and adoption strategies is required for Workforce Analytics success?
Customers who are successful with Workforce Analytics invest in proper change management and adoption tactics, rather than just technical implementation. Organisations that do not invest in change management will often find that their users do not understand WFA and will either use it incorrectly, or never use it at all.
We specialise in working with customers to develop WFA strategy, change management and adoption strategies. We advise you consider a change management programme that includes a communication strategy, report and dashboard design, and analytical and behavioural training support. Not everything is required but should at least be considered.
12. Do you need to have a consistent definitions for all your HR metrics?
13. Is post Go-Live support for Workforce Analytics different from the other modules?
Some support is the same. For example, the you will need post Go-Live technical support and managing technical problems. As with every other module, things can go wrong.
Other post Go-Live support is different. There are different factors to consider, but here are our top three:
New Reports and Dashboards. Unlike other modules, if you are successful, people will use WFA more and more, and require new reports and dashboards overtime. It is common to rely on a partner for this support.
Ongoing Change Management. Similarly, if you are successful, your change management will be ongoing - you will need to consider how to communicate the value of WFA to more user groups.
New Metrics Packs. Whilst most customers start with one or two metrics packs, in order to answer more questions (based on data in other modules) you will need to implement new Metrics Packs or individual metrics over time.
A good partner will help you plan your WFA growth requirements over 12-24 months.
14. Does SuccessFactors Workforce Analytics 'do' predictive analytics?
The SuccessFactors Workforce Analytics tool will create metrics based on historic data, so that decision-makers can make decisions about the future. These metrics are usually based on simple statistics, such as averages, rates and ratios. It does not perform any advanced statistical or data science queries.
To find out more about 3n Strategy's advanced analytics services please click here.
15. What is the difference between WFA-on-SQL and WFA-on-HANA?
What are the key differences between WFA-on-HANA and WFA-on-SQL?
Data Refresh Frequency.

A 'refresh' is how often an analytics tool uploads the most up-to-date set of data from its source systems. WFA-on-SQL refreshes once per month. WFA-on-HANA refreshes one per day.

Metrics Packs.

WFA-on-SQL can build metrics (and metrics packs) based on every SuccessFactors module. WFA-on-HANA produces metrics based on data in Employee Central, Goals and Performance, Compensation, Recruitment and Succession only.

External Data Sources.

WFA-on-HANA extracts data from the SuccessFactors modules listed above. WFA-on-SQL works with data provided from external systems.

Functionality

. General functionality between both versions of WFA is the same, i.e. both have measure pages, query workspace, investigate, drill-to-detail and the same report designing tools. WFA-on-SQL has slightly more functionality in terms of analytics workspace.
16.What is/was Stories in People Analytics, People Analytics Embedded Edition and People Analytics Advanced Edition?
In 2019, SuccessFactors planned to build new tools to providing reporting and analytical functionalities. In Q2 2020 the People Analytics Embedded Edition was released under the name Stories in People Analytics. This new solution is intended to replace all operational SuccessFactors reporting solutions.
17. Can we migrate from WFA-on-SQL to WFA-on-HANA?
Yes, if you want to you definitely can migrate from WFA-on-SQL to WFA-on-HANA. There are usually no licence/subscription costs to the move as SuccessFactors considers both versions of WFA to be covered by the same subscription. However there will be an partial re-implementation.
What needs to be reimplemented? Your move from WFA-on-SQL to WFA-on-HANA is a partial re-implementation because your WFA-on-SQL specification/workbook is exactly the same for WFA-on-HANA.
How much does the partial re-implementation cost? You do not need to repeat the requirements gathering, which would have been approximately 30% of your original implementation cost. Also the technical cost for implementation WFA-on-HANA is probably lower than your WFA-on-SQL cost, so the remaining 70% of the work should be cheaper too.
18. How many levels can a SuccessFactors Workforce Analytics hierarchy or dimension have?
Dimensions and hierarchies within SuccessFactors Workforce Analytics can have as many levels and dimensions as required. What does this mean for the end user experience?
For dimensions, it means different nodes can be grouped together. For example during an implementation it is common for particular action codes and reasons to be grouped as 'Voluntary' vs 'Involuntary' reasons for leaving, or perhaps for different performance ratings to be grouped under one category (see example below).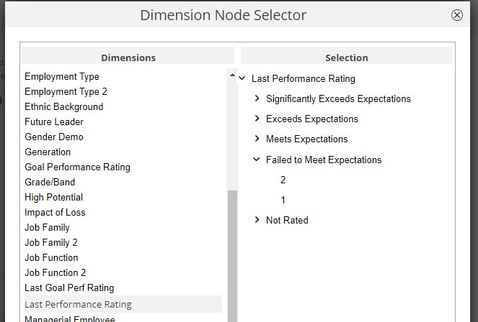 For WFA hierarchies, it means customers can create org dimensions that reflect their full structures. The most common hierarchies (which are used to manage Role Based Permissioning on WFA as well as navigation) are Org Unit, Location and Supervisor. The structures can have as many levels are required. The most common structure will be something like Legal Entity > Division > Department.