Why is your organisation implementing SuccessFactors? Are you trying to drive efficiencies? Deliver the Future of Work strategies? To increase HR's strategic impact on the business? In 2019, only 38%* of organisations said their investments into HR technologies created value. In this article we discuss how SuccessFactors customers can prepare themselves for success by changing the way HR makes decisions.
When deployed effectively SuccessFactors gives organisations the potential to transform the way that HR operates. Implementing the suite gives organisations the opportunity to pursue ambitions of improving process efficiency, delivering the the Future of Work, and have a more strategy impact on the business. But how many organisations actually achieve these goals?
In our experience, whilst most organisations begin their HR transformation with these goals in mind, most do not achieve them. More often than not, by the end of their multi-year implementation, they have re-implemented old processes on new technology and are simply trying to get through a tiring technical project plan. Most disappointing, HR is operating the same way as before.
What is an HR transformation?
Most organisations complement their SuccessFactors implementation with an HR transformation project, or at least a review of their HR target operating model. These projects usually assess the HR processes in the context on what HR currently does. The organisation then decides how they would think they would like HR to be done, resulting in a change programme, and creating some requirements for the implementation team.
Is this the best way to transform HR?
The actions we take are a result of the decisions we make - whether these actions are wide-scale talent strategies or individual recruitment decisions. Rather than look at how HR has been 'done' in the past, we suggest that HR leaders re-look at their functions from the perspective how they make decisions.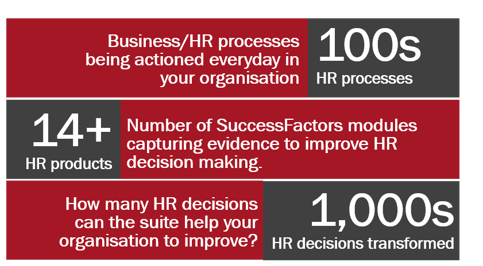 Every day, the average HR function deliver hundreds of HR processes, made up of thousands of decisions. These decisions define how an HR process is delivered, and define how HR impacts the business, and how employees experience their roles.
What is an HR decision? What decisions does your HR function make?
In order to understand and define HR decision making, we have adapted three concepts from other industries: Decision Architecture in product design, Choice Architecture from Behavioural Science, and Decision Intelligence (inspired in particular by Google's Chief Decision Officer Cassie Kozyrkov).
We define HR decision-making as follows:
HR Decision-Making is:

When an action is taken when there were alternative options available
The action impacts the workforce or its impact on the business
The person/people taking the decision are responsible for its outcome
By applying these principles when working with organisations, it is possible to understand not only how HR does things, but how HR professionals decide to get things done. By applying these principles, we begin to map the decisions and behaviours of HR professionals, and how they really do HR in an organisation.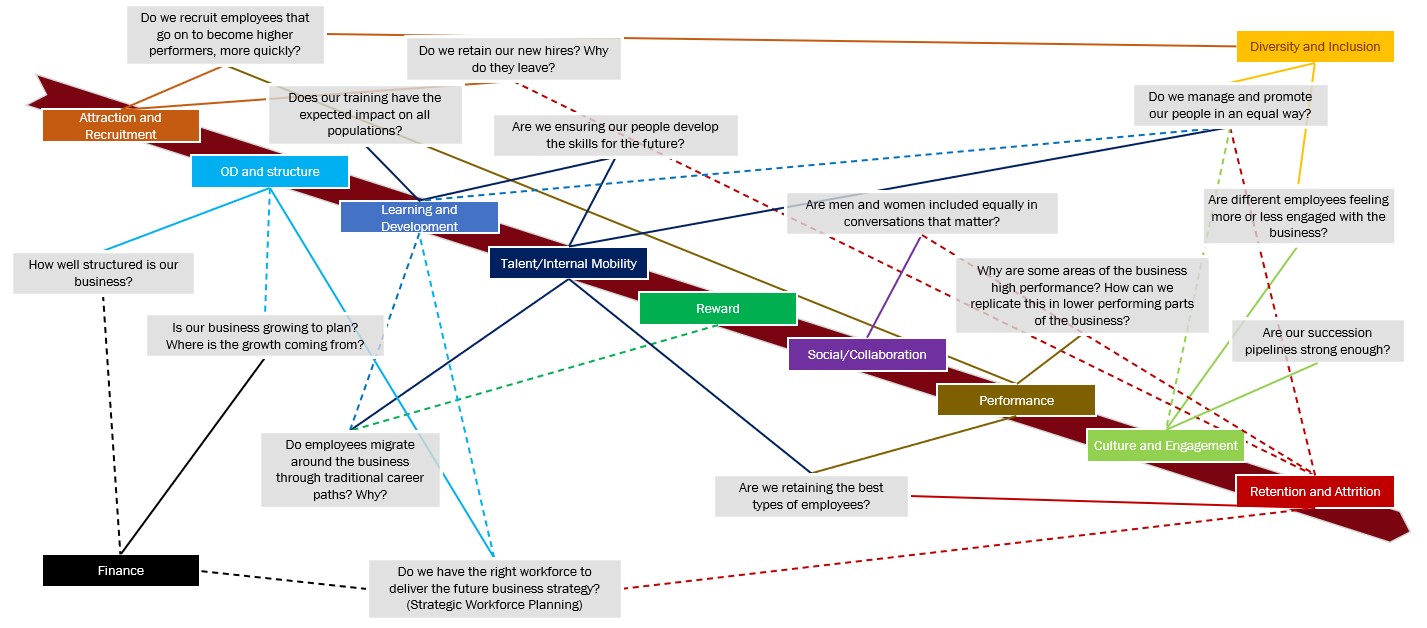 How does should SuccessFactors improve HR decision-making?
When we explore the decision architecture of an HR function, we are able to understand how it behaves and how it operates - and we are able to take actions to plan not just the final change, but track the change in behaviours.
Organisations that use SuccessFactors are able to quickly and effectively change the way that HR and business leaders make workforce decisions, by translating decision architecture into module configuration.
If the module configuration is supplemented by the right adoption and change management approach, SuccessFactors customers can plan not only how HR decision-making in their organisation will change, but they will be able to measure the adoption of that change to track progress.
We've already implemented SuccessFactors - Is it too late to apply these principles?
It is never too late to apply decision architecture principles to your HR transformation or your SuccessFactors roll out. Even if both are half way through, or even completed, it is possible to use these practices to clearly articulate the way that HR makes decisions, and to then work out how to change them. In some ways, if your modules are already implemented, it sometimes makes things easier as you just need to re-adjust your process change (with maybe a few technical changes).
If you would like to talk more about how we help customers define and achieve success with their SuccessFactors suite, or just generally find out more about our services, please get in touch.
*IHRIM HR Software Study 2019