Achieving success with data-driven HR requires more than investing in good data and technology. As your business progresses through its journey, creating more and more value for HR and business decision-makers, your people analytics team will need to grow and develop skills to deliver more value.
It means that you, as an analytics leader need to look inwards at your team and evaluate the following;
What skills do people analytics teams typical have?
Which skills are more important for success?
In additional to buying these skills, how can you build them in your existing team?
What are the different types of people analytics skills?
Aside from the basic HR generalist skills that most of your team have likely gained from previous roles, there are many more niche skills that are essential for your team to have. A strong HR analytics strategy requires skill-planning 12-24 months in advance, meaning there is a plenty of time for you to help grow and/or develop these skills within your team whether you are building, borrowing, buying or outsourcing.
Some of the key skills that will benefit your team are:
Consulting Skills.

Whilst it is possible to improve all decisions using evidence, it isn't usually feasible. The best PA professionals will be able to understand and prioritise what decisions will most significantly help the business, and scope the best way to use evidence to improve decision-making.

Data Knowledge.

HR data is more complex than most people think. Every day, your organisation is generating thousands of HR data points that could be analysed to help decision making. HR analytics teams need to understand how, when and where to collect this data, and understand the nature of this data when they analyse it.

Visualisation and Communication. Analytical insights need to communicated in a way that enables decision-making. When decision-makers stop making a decision, and start asking questions about the evidence instead, you have already failed. HR analytics teams should aspire to create an Evidence Experience that ensures decision-makers keep making the decision without stopping to ask about the data or the statistics involved.
Functional and Technical Proficiency. Most (not all) HR analytics teams still have a responsibility for analytics and reporting. It is therefore usually required that teams have someone that understand not only analytics, but how cloud-based technologies are designed and rolled out.
Analytical Skills. Different types of HR analytics teams need different types of levels of analytical skill sets. Some functions require a good understanding of basic statistics, whilst other require advanced specialist knowledge of data science
By finding a way to spread these skills among your team, you will be able to execute your people analytics strategy successfully.
Which people analytics skills are most important?
All people analytics skills are important, although some functions may lean more heavily into some areas than others depending on the exact nature of their role, their maturity and the value they are supposed to create for their decision-makers. Regardless of the exact balance, it usually takes a combination of all these skills to add real, tangible value to your organisation.
The HR industry is evolving and data-driven HR decision-making becoming a mandatory skill, not an optional one. Linkedin's 2020 Global Talent Trends research is one of the latest reports to highlight the priority placed on people analytics, with 73% of respondents saying it will be a major priority for their organisation over the next 5 years.
As well as the benefits to the organisation, the personal benefits to your team members is the real win. Building these niche skillsets into your talent will help them to cultivate the skills needed to advance into senior positions.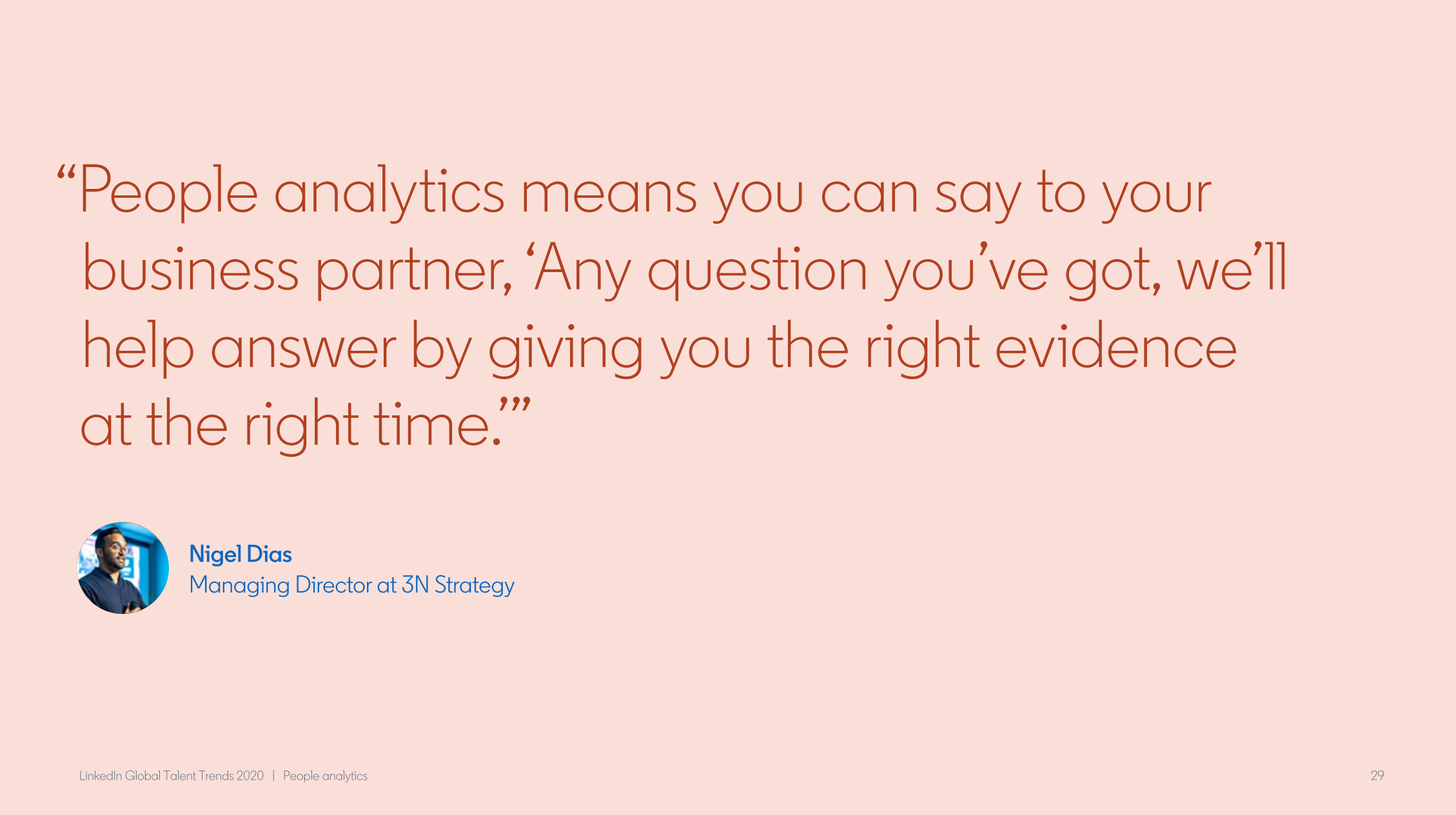 Nigel Dias in Linkedin 2020 Global Talent Trends
How can you help your team improve their people analytics skills?
This is the ever important question when it comes to talent development within teams. Everyone learns differently, so how is it best to tackle the individual needs of your best team members? There are a variety of tools available within the people analytics space that can be moulded to the way your team members learn best.
For example:
Reading.

It sounds very simple but can be very effective for those who learn best by reading and writing. There are so many publications that are freely available to access such as our research body,

The HR Analytics ThinkTank

. Our partnership with University of Leeds, Utah State University and University College Dublin contains a lot of free information to get started with.
C-Suite learning. Utilising top level management to coach and mentor members of your people analytics teams, can be invaluable in nurturing and broadening team members skill sets

Short Courses/Workshops.

There are several short and long-term training courses available for people analytics professionals. Check out most major corporate training sites for shorter online courses, or if you prefer live sessions, check out our workshop selection.
Specialist and University Courses. If you are looking to build more formal qualifications into your team, there are plenty of institutions providing higher level diplomas or even universities offering part-time courses for both the HR side of the practice and technical/data science skills.
eLearning. There are several sites offering extensive catalogues of online training that can be completed at the pace you choose. These can be particularly effective as part of a wide scale adoption/change management programme, or technology roll out since you are able to set your own deadlines for completion.

Events.

Hearing veterans within the industry is always useful to help give foundation to your teams learning. Their stories and enthusiasm will probably help your own teams ability to stay dynamic and create new ideas. If you are looking for free, less formal events, we suggest checking out your local HR and People Analytics Meetup community. If you are ready for some bigger, perhaps consider attending a conference or two.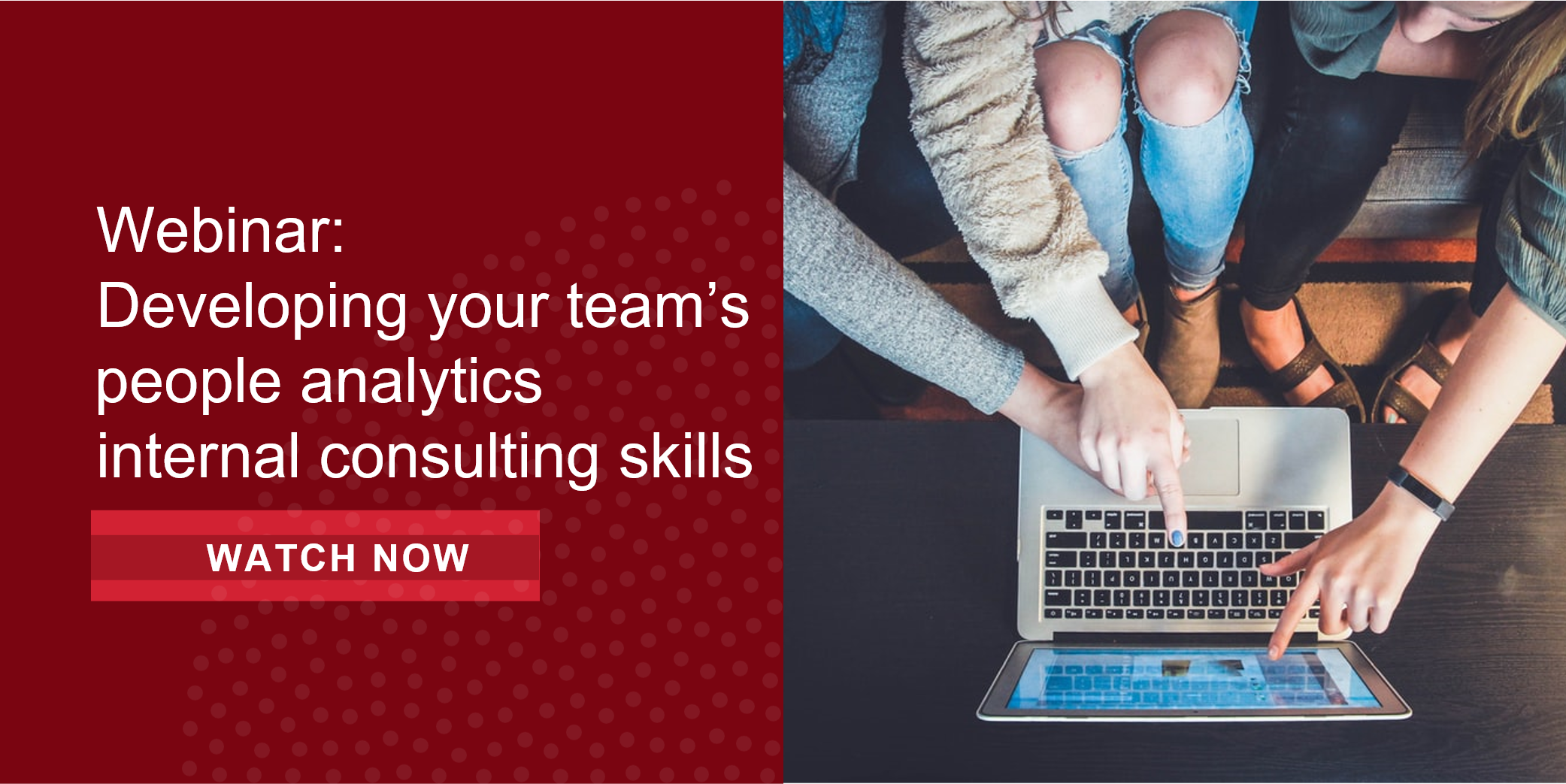 What else can you do to improve your own people analytics skills?
If you're an analytics professional or analytics leader, you may be wondering "how can I improve my own people analytics skills?" and there are several ways you can go about this. Here are some easy steps you can follow to develop your people analytics skills
Shadowing your seniors. There is a lot to be said for those who have progressed in the analytics world over the past few years. They have truly paved the way in a relatively new discipline and can be a great resource for gaining tips on skill development

Attending analytics seminars.

Reading around the discipline can help improve your people analytics skills. This, combined with using the information you've learned in your day-to-day role can be extremely beneficial. You can check out the 3n Strategy webinars for useful insights into people analytics topics
Be dynamic. This discipline is still mapping out its core processes, if you can find a more efficient way to do something test it and share it. You should always be looking for a way to move the needle within your role. This kind of attitude will always help you improve your people analytics skills.