The long anticipated Stories in People Analytics is finally here. Early reviews are extremely promising as SAP looks to improve on the legacy SuccessFactors reporting system. Whilst there is a lot of excitement about this new product upgrade, there are a number of questions on everyone's minds: What is Stories in People Analytics? What are the benefits? What are the limitations of Stories?

In this blog we answer these questions, and will continue to update the article as new versions of Stories are released by SuccessFactors. If you are looking for information on WFA, please check out our Workforce Analytics FAQ or maybe watch our webinar where we compare WFA and Stories with the SAP product team.
What is SuccessFactors Stories in People Analytics?
Powered by an SAP Analytics Cloud front end, SuccessFactors Stories in People Analytics (formerly known as 'Embedded Edition') is the go-to solution for all SuccessFactors Reporting. It is the unified interface for all operational reporting and replaces all legacy SuccessFactors operational reporting tools.
SAP describe Stories in People Analytics as "presentation-style reports that use charts, visualizations, text, images, and pictograms to describe data for easier consumption by HR decision-makers.". Below is an example of a dashboard created in Stories.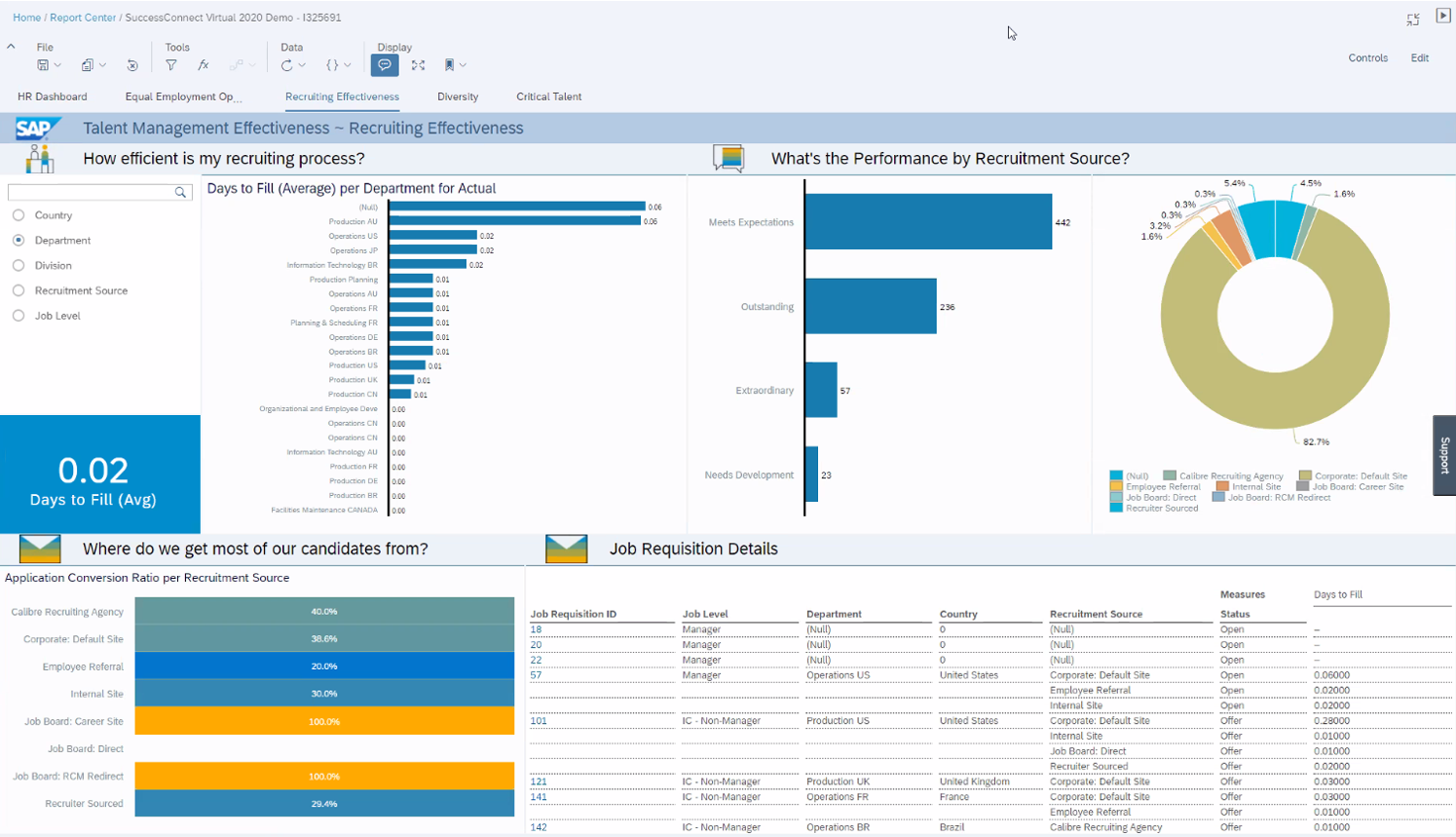 In the above example, we see a Story report visualizing recruiting data, helping leaders and practitioners make operational decisions about recruitment at a high level, by division and more. Dynamic charts are used to track the process and create a narrative about recruitment effectiveness.
In addition to visualizing data in charts and aggregated tables, Stories also supports creation of list reports, some of which can be seen below: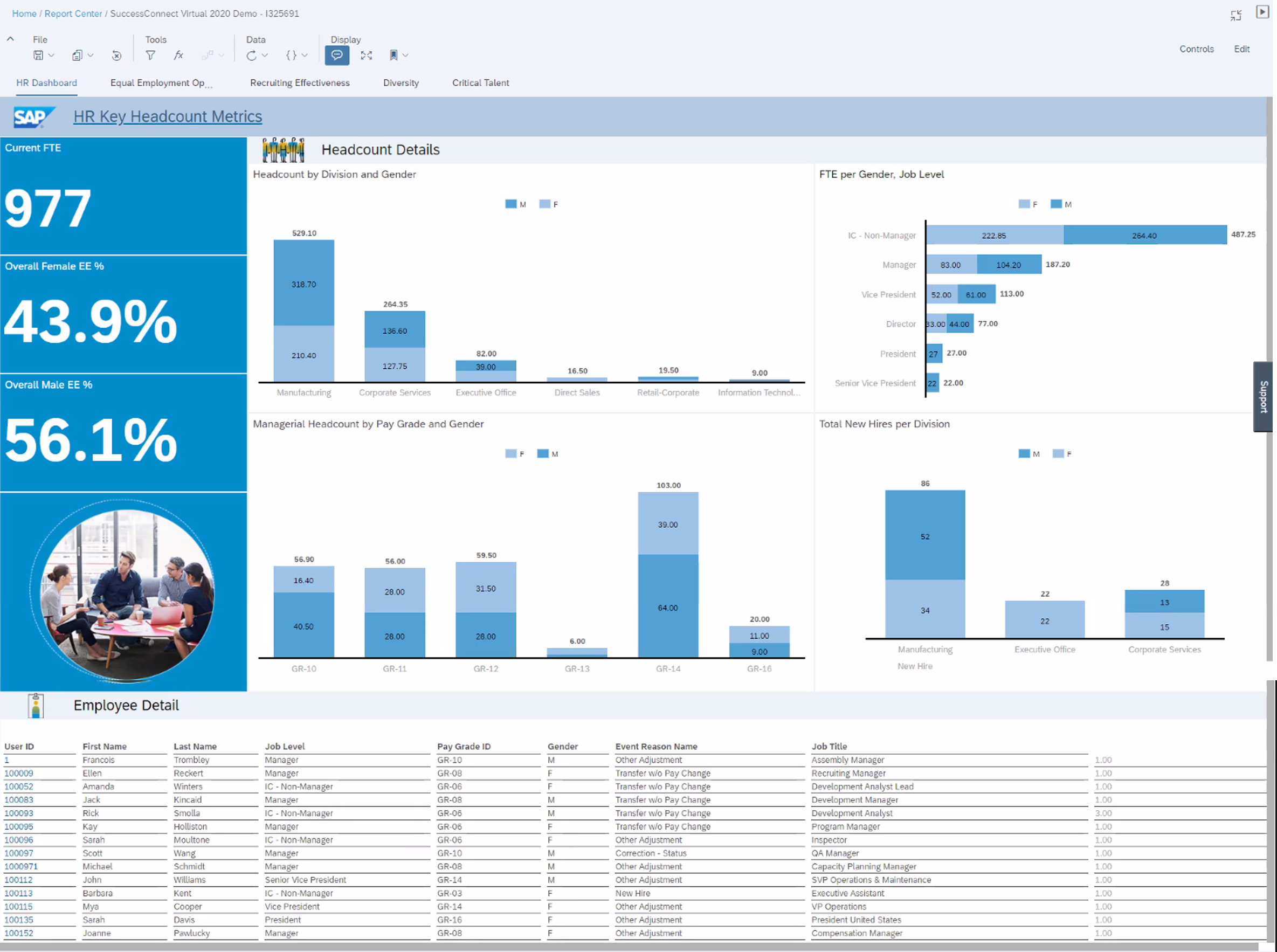 What are the benefits of SuccessFactors Stories in People Analytics?
As you can see, Stories is a significant improvement to the legacy operational reporting tools. There are many improvements but some key enhancements include:
The ability to easily connect data from various modules.
The ability to report on modules and MDF fields unavailable through the Legacy Tools including Onboarding 2.0, Job Profile Builder and others.
An increased capability to handle more complex calculations.
A revised, fresh and modern look.
An increased capability to handle time trending.


What are the limitations of SuccessFactors Stories in People Analytics?
It is important to remember that there are some limitations to the current version of Stories. Some of these key limitations include:
The schemas for Recruiting Marketing, Recruiting Posting, Learning, and Onboarding 1.0 aren't yet supported. (Onboarding 2.0 is supported)
The Status Audit Trail table for Application Status in the Recruiting Schema is not supported.
Transient data (for example, fields calculated in real time in the UI such as Salary or Compa-Ratio) isn't supported.
Whilst time-trending is available, it is only possible for event-based data, i.e. events with an associated effective data like a termination or hire.
If you are looking for more information on Stories the following documentation details key prerequisites as well as current state limitations:

Stories in People Analytics - a Work in Progress
Bear in mind that SAP is actively working on the limitations and challenges addressed in this Blog and referenced links. Be sure to check back here and/or with SAP for the latest information and recommendations.
Good luck with your Stories in People Analytics journey!